There's no better time than summer to explore the local mountains to the maximum. Cooler temperatures. Dryer terrain. Longer days. And our pick of the best summer hikes just next door to Eagles Nest will get you in the great outdoors, and on the trails, faster than ever. So the search for things to do in Banner Elk, NC ends here. From Beech Mountain to the Blue Ridge Mountains and beyond, we'll see you at the summits!
Easy to Moderate Summer Hikes
Wild Iris – Moderate
Forget Beech Mountain ski days; the snow is gone, and the sun is out for Wild Iris – a forest-covered trail spanning 2.5 miles of the mountain. Described as "a trail for all seasons," you can chart your way along it any time of year, however appropriate: on foot, on snowshoes, on skis, or on your bike. We happen to love July to August for one special reason: blackberry season. So don't leave your buckets at home!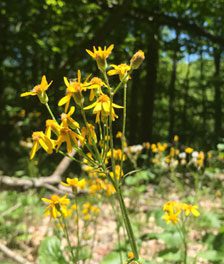 Wild Iris is also the setting of Beech Mountain's annual "Mud Run," so you may come across an obstacle or two on your trek up the mountain. Consider it an unofficial invitation to test your agility without the added pressure of a competition! Otherwise, just enjoy the view of free floating butterflies, wildflowers, and forest greenery on your way to the top.
Mile High Swinging Bridge – Easy
Soon to celebrate its 70th birthday this September, Grandfather Mountain's Mile High Swinging Bridge is an icon all its own, claiming the title of America's highest suspension footbridge. And while its 228-foot length hardly constitutes a "hike," it does provide incredible access to its home: Linville Peak. You can opt for the 0.4 mile Bridge Trail just below the bridge itself, or choose something a little more varied like the Grandfather Loop Trail (read more below) or a truly strenuous experience via the Grandfather Trail (read below in the Challenging category). Keep it simple for the family or challenge yourself like never before; it's your path to pick.
Note: Tickets are required, and you must book online. 
Grandfather Loop – Moderate 
As we were saying, if you're already in the area to check out the Mile High Swinging Bridge but want a more varied experience of hiking the local trails, look no further than the Grandfather Loop. Three trails connect at different points, providing 1.5 miles of crest hiking in beautiful Alpine territory. Simply park in the Black Rock Lot and look for the sign-in station before making your way to the trail head. You're in for a mild hike with a few inclines to get your blood pumping.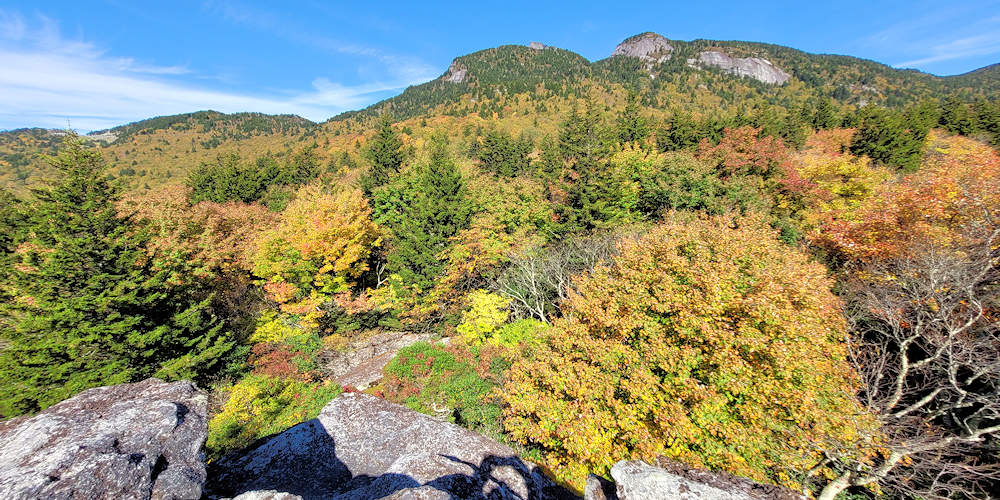 One more scenic option to consider, the Black Rock Trail starts from the same parking lot and will give you access to incredible views from a rock outcropping. 2 miles roundtrip! 
Moderate to Challenging Summer Hikes
Grandfather Trail, specifically Calloway Peak – Challenging
Through wildflowers, over the Watauga River, and under a forest canopy, hikers on their way to Calloway Peak – one of the highest peaks in the Blue Ridge Mountains – can be lured to believe the journey will be as pleasant as the surroundings. They'd be mistaken.
Located near Banner Elk, it's apt to say the trek to Calloway Peak demands as much as it gives. For example, expect a 659 m. gain in elevation and an almost 5-hour journey in total. You'll face steep inclines and tumble-down rock, stream crossings, and a final stretch fully exposed to the wind and elements. Be extra cautious during the rainy season and remember to bring your own water (there are zero potable options once you head up the mountain). Just keep in mind, what awaits is nothing short of breathtaking – the view as well as the accomplishment.
To purchase your permits, stop by the Grandfather Mountain Market near the junction of Holloway Mountain Road and US 221. 
Grandfather Trail: Mile-By-Mile
Start at Top Shop Parking Area or Black Rock Parking Area (5,022 ft.) via Grandfather Trail Extension (adds 3/10 of a mile):
0.00 Mile: Top Shop Parking Trailhead, elevation 5,250
0.5 Mile: Underwood Trail Junction
0.9 mile: MacRae Peak, elevation 5,845 ft.
1.1 miles: Underwood Trail Junction #2
1.2 miles: Attic Window Peak (elevation 5,880 ft) & The Chute
1.3 miles: Indian House Cave
1.5 miles: Alpine Meadow
2.0 miles: Calloway Gap, elevation 5675 ft., intersection of Profile Trail
2.1 miles: Cliffside Campsite
2.3 miles: Watauga View
2.4 miles: Calloway Peak, elevation 5,946 ft.
Profile Trail 
Another option for experienced hikers seeking an exhilarating trek through nature is the 3.6-mile Profile Trail. This demanding trail winds up the west side of Grandfather Mountain and intersects the Grandfather Trail at Calloway Gap. As described on the trail's page, the trailhead begins at 4,034 feet and ends at a 5,675 ft. elevation. Who's up for a 1,775 foot incline!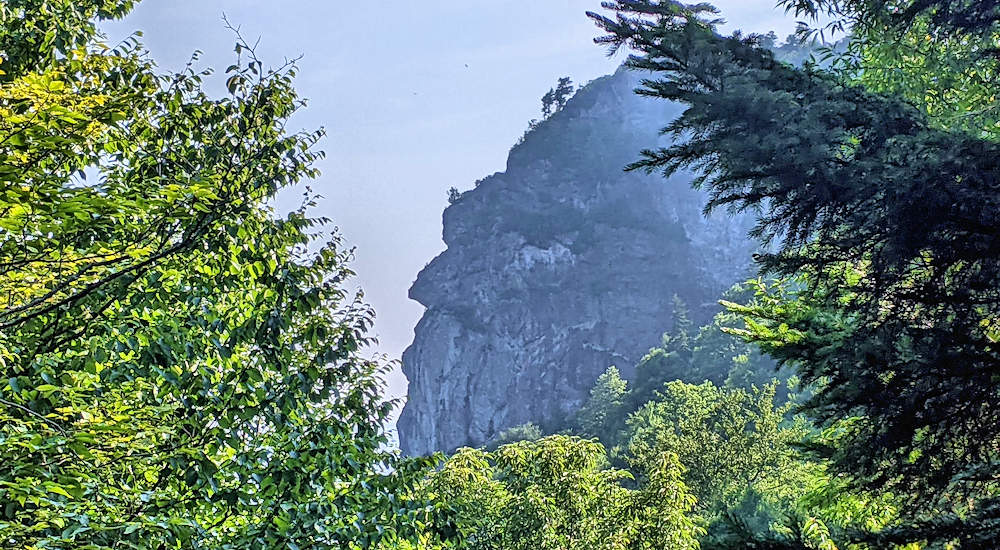 Along the way, you'll cross the Watauga River and forest canopies rife with Red Spruce. And while gaining ground, you'll experience seven distinct layers of natural ecosystems ranging from rich cove forests and non-woody vegetation to dense shrub layers covered in rhododendron. The final view? Well, you'll just have to see…
Note: There is no charge for accessing the State Park from the trailheads on N.C. 105 and Blue Ridge Parkway. 
With so many hikes and outdoor activities in and around Banner Elk, it's easy to see why so many outdoor enthusiasts call Eagles Nest home. If you'd like to consider it too, schedule your Discovery Tour with us today. We look forward to discussing your next adventure in the High Country!