The Keep Cool Edition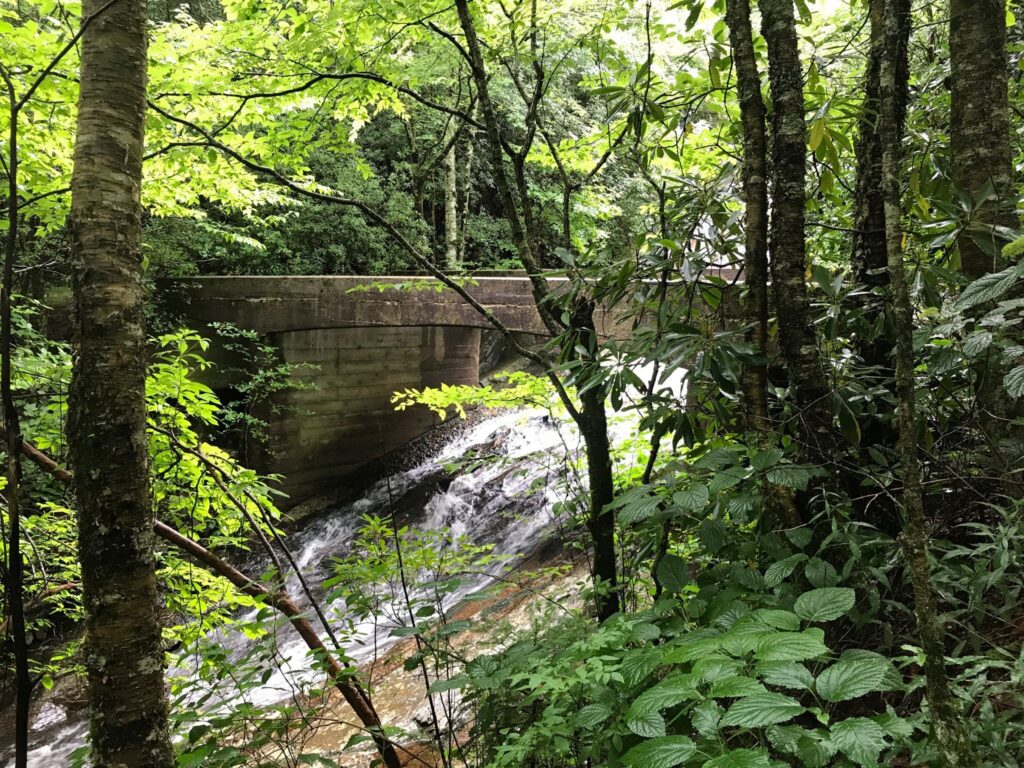 With temperatures where they are (soaring), we have a natural remedy for cooling down, and it's not just living at higher elevations: it's waterfalls. Lakes, rivers, waterparks, and resort pools… they all have their place, just not on today's list. Today, we're focused on crystal clear, cold, cascading, and conveniently located waterfalls near Eagles Nest.
Check out our list of best local falls below, with many offering the added benefit of terrific hikes and beautiful Blue Ridge views for the entire family to enjoy together.
Easy to Moderate Hikes with Waterfalls Near Banner Elk, NC
The Cascades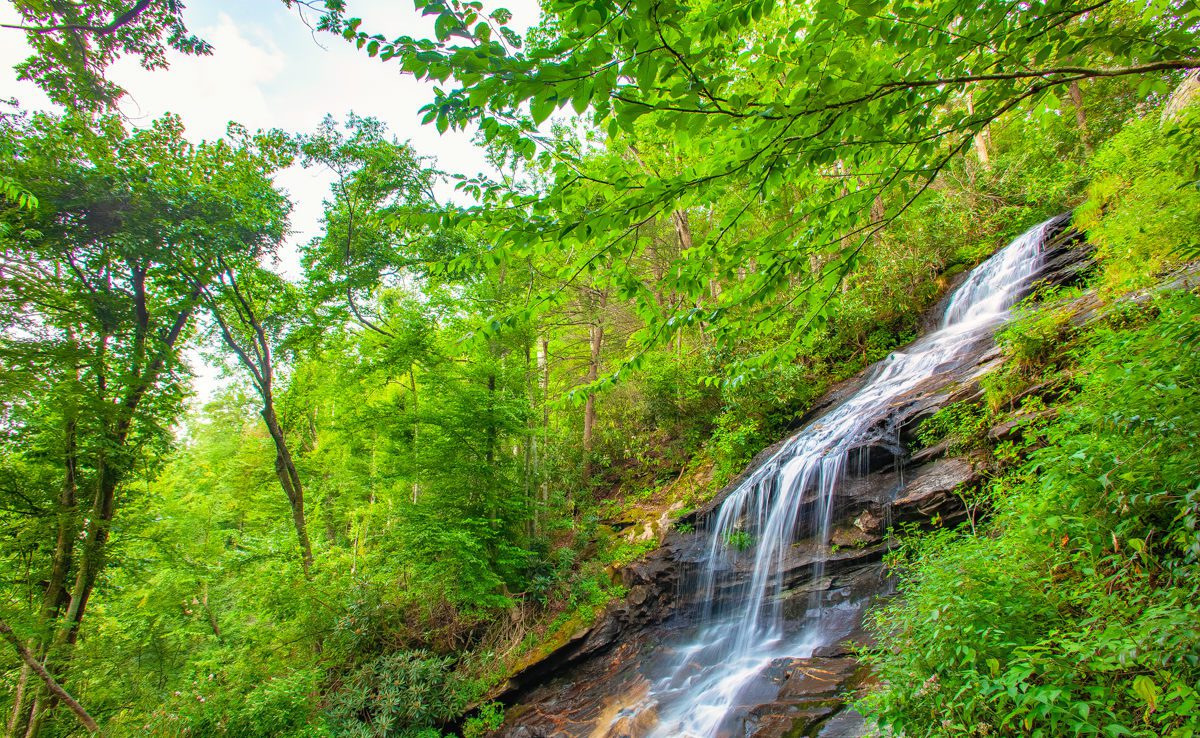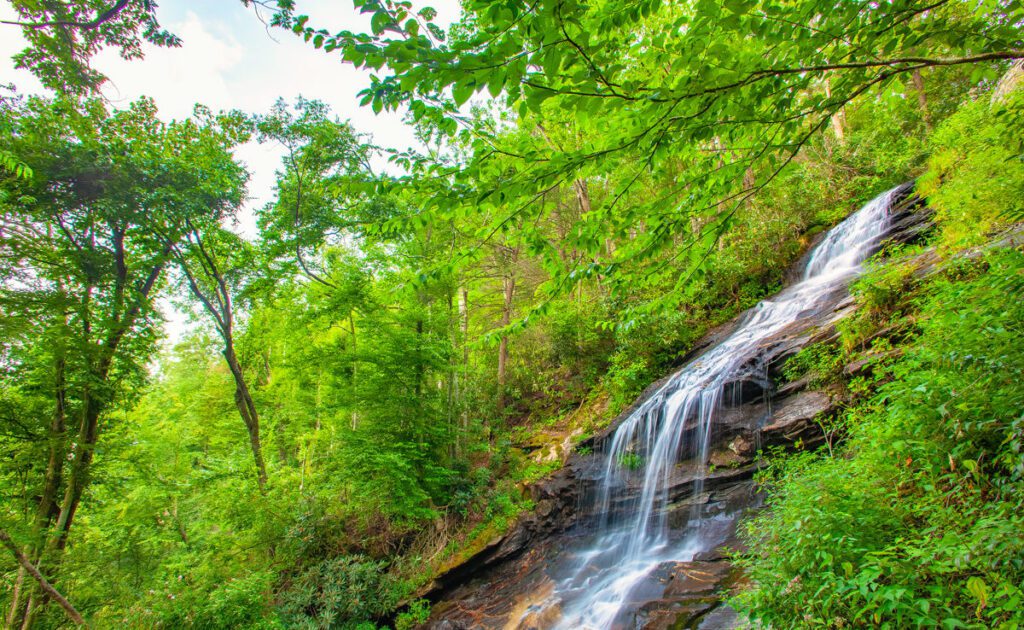 Starting off with a short hike and sweet views…
A natural gem of the Blue Ridge Parkway, The Cascades Falls is a lovely 35-foot falls located near neighboring Boone, NC. Besides its setting, what makes it extra special is the ease with which you can reach it: ample parking gives you easy access to the trailhead that kicks off the falls' one-mile loop, that's a pleasant sojourn perfect for all ages and activity levels. You'll find it at BRP milepost 272! Bring a picnic lunch while you're at it, there are plenty of tables and restrooms for your convenience.
---
Elk River Falls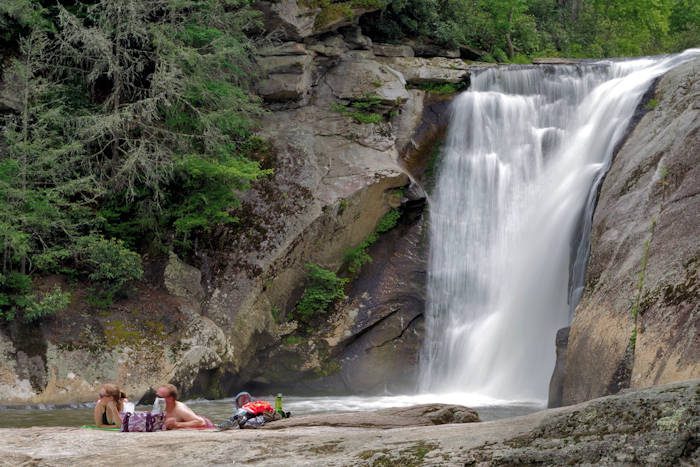 Right around the corner from Banner Elk is one of our absolute favorite waterfalls: Elk River Falls. Its striking 50-foot plunge contributes to its high awe-factor, and we believe it to be one of the most photo-worthy falls in the area. It offers a perfect length trail (about ⅔ of a mile round trip) to get your heart pumping while still leaving you with enough energy to attempt the second trail option. Expect some steep steps along the path, but nothing to be concerned about.
And we have to say it upfront because of a potentially dangerous undertow hidden beneath the falls' surface: NO SWIMMING. But certainly bring your camera along, and feel free to sit and soak near the shore. Visitors-wise, you'll see everything from picnic lunches and photography triads to sketch pads and afternoon reads. Take advantage of this beautiful spot for as long, and as many ways, as you want.
---
Laurel Creek Falls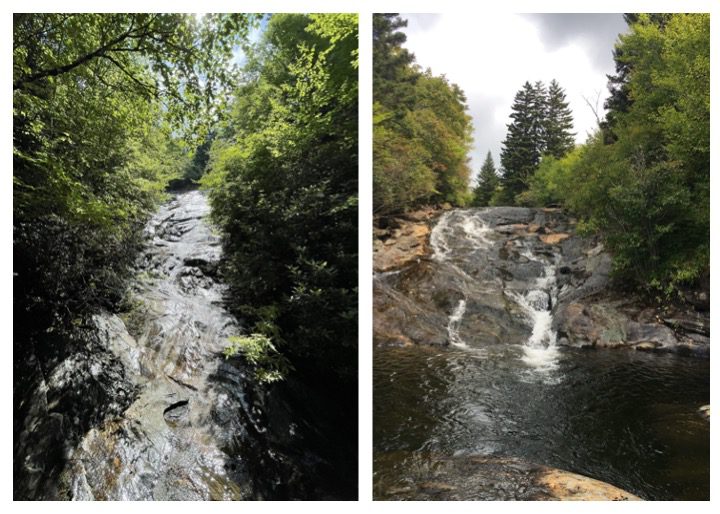 Great news: you can swim here!
Laurel Creek Falls (or to the locals and repeat visitors, "Trash Can Falls" thanks to an old roadside dumpster used as a trail marker) is considered one of the most popular falls in the area, particularly among App State students. 30 feet tall and located on the pristine Watauga River, Laurel Creek Falls offers an idyllic setting for its many swimming holes and flat "beaches" practically made for camping out and bonfires.
---
Crabtree Falls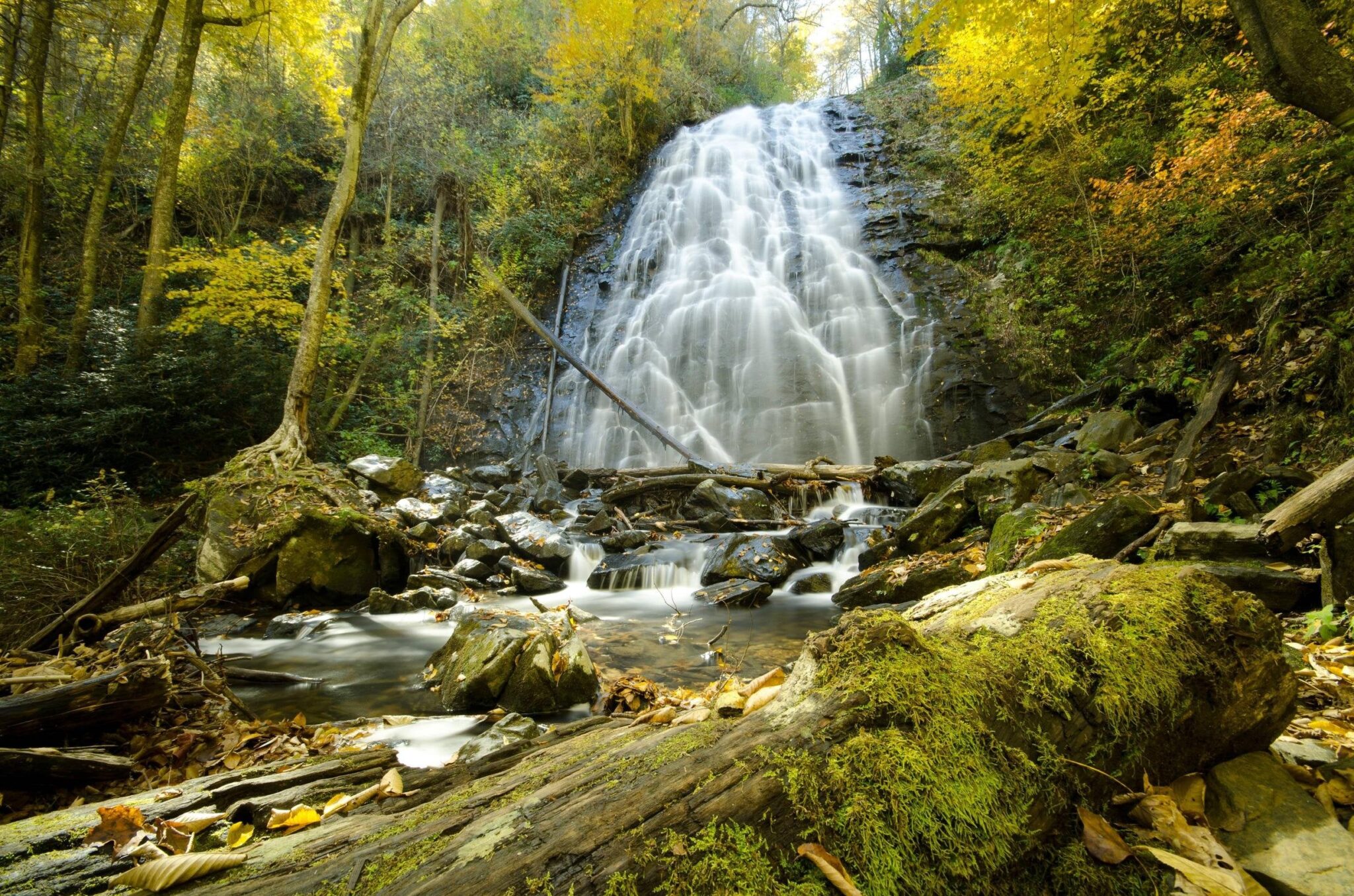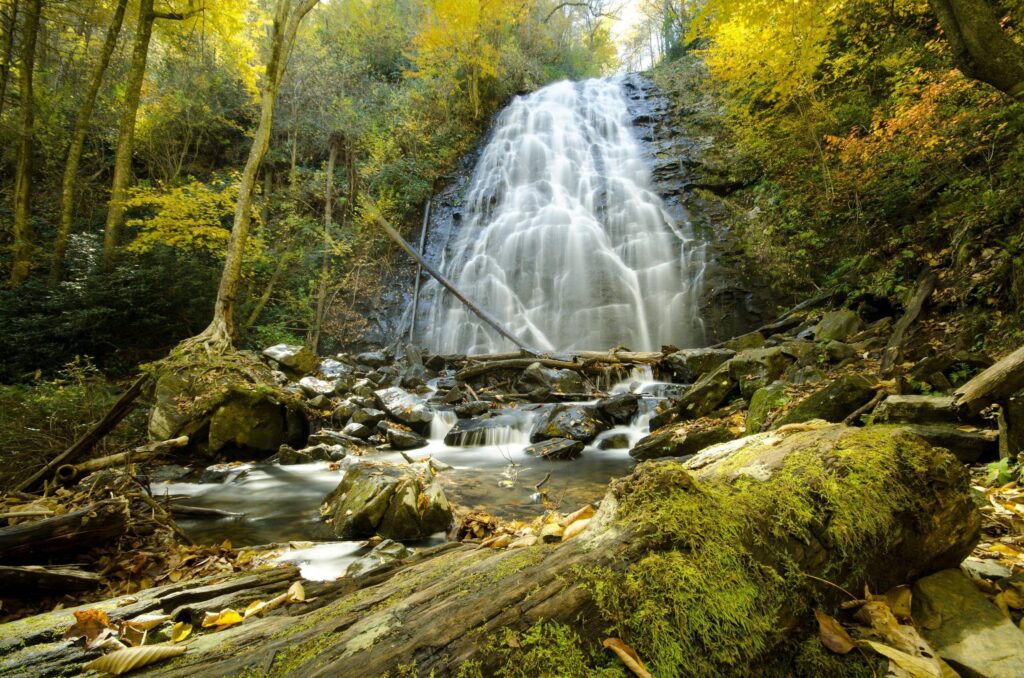 If you're already familiar with the Blue Ridge Parkway's many mileposts – and all the stunning trails and viewpoints plotted accordingly – then you may already know 339.5, the marker of the much loved Crabtree Falls. Crabtree Falls is a gorgeous, 70-foot falls surrounded by the colors and foliage of the specific season. Before setting out to enjoy it, choose between two trail options: a moderate, 3-mile woodland trail hike or a strenuous 3.5-mile loop that'll take you to a ridge above the falls. These options are part of what makes Crabtree so popular among both locals and visitors, and one of the most popular falls near Asheville, NC.
Located within Pisgah National Forest, Crabtree Falls is a great starting point on your search for more stunning views of the Blue Ridge Mountains. Use this guide to explore nearby Black Mountain hikes that'll guarantee just that.
---
Otter Falls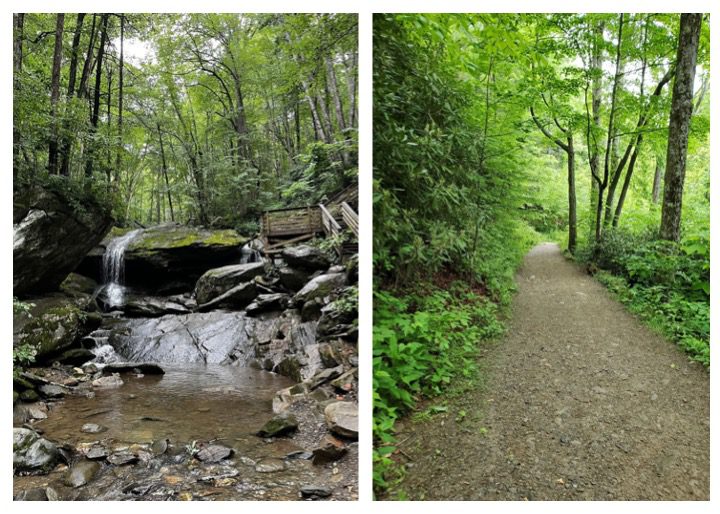 Located within the resort community of Seven Devils, and home to two loop trails we'd highly recommend, Otter Falls stands out as a perfect respite between an intense 1.2-mile hike into the mountain's cool forest. The trail branches into four colored trails of two loops and two dead end trails, so be sure you know which one you're on. Look out for wooden posts with colored markings of red, blue, yellow, and orange. The clearly marked trail ends with an observation deck built for prime viewing. Soak it up!
NOTE: In winter, ice and snow are expected, as are park closings if the weather's unsafe. Check for alerts before heading out!
---
Linville Falls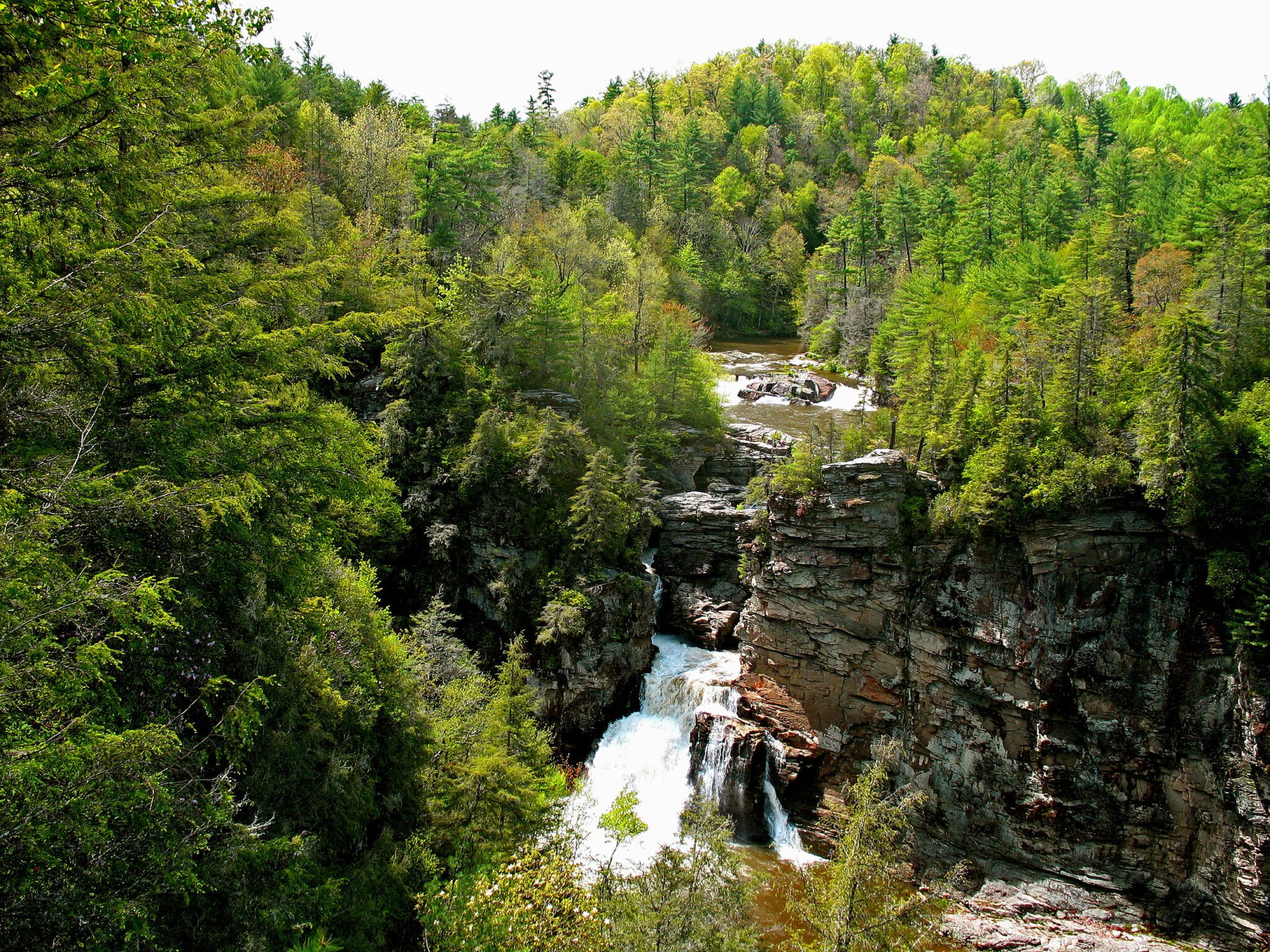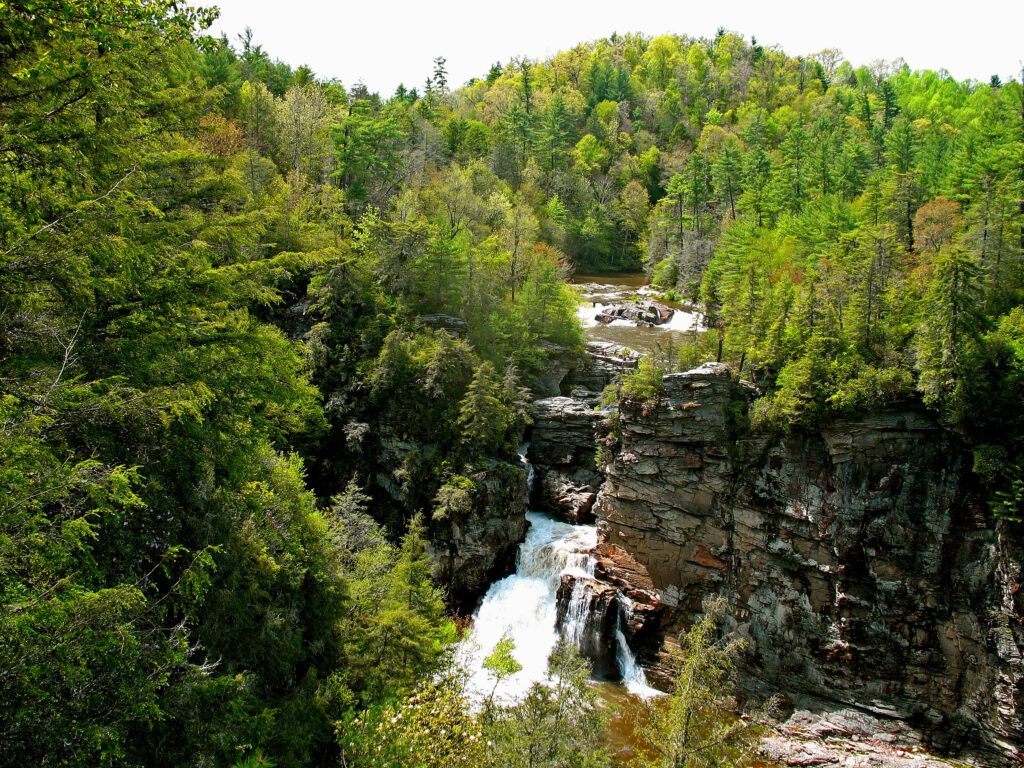 An icon all its own, Linville Falls is one of the most recognized and visited falls along the Blue Ridge Parkway (milepost 316.4) and for good reason. 1. It's a 3-tiered falls spanning 150 feet 2. It empties into the Linville Gorge, known as "the Grand Canyon of North Carolina" 3. It's surrounded by the Pisgah National Forest and therefore part of the Blue Ridge Parkway's protected areas, and 4. It offers access to endless natural wonders and hiking trails, while also being one of the most easily accessible falls in the area.
If you're interested in spending more time in the Linville Falls area, scope out some longer-term stay options like these cool cabins near Asheville, or Linville Falls campgrounds and RV park options.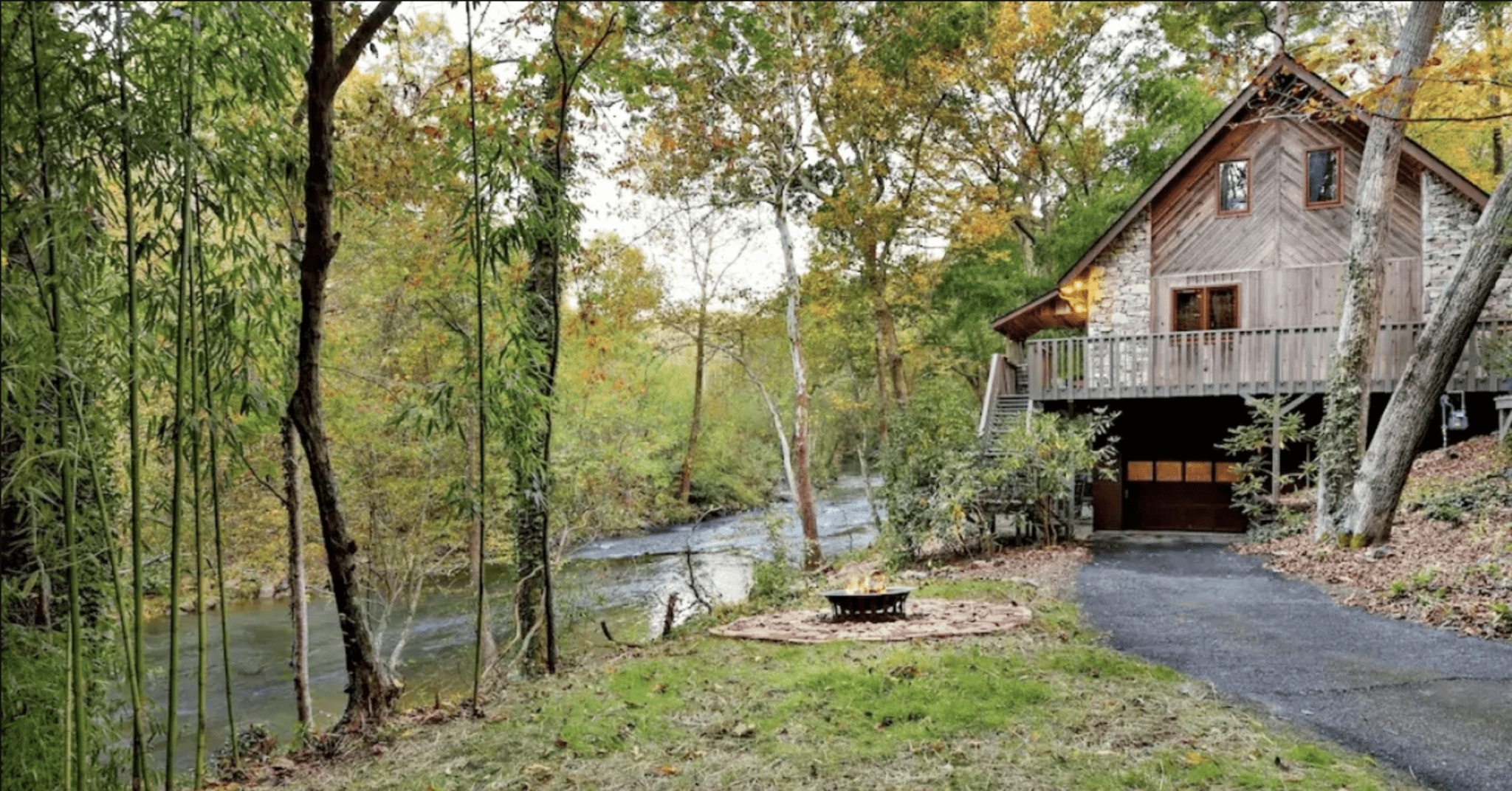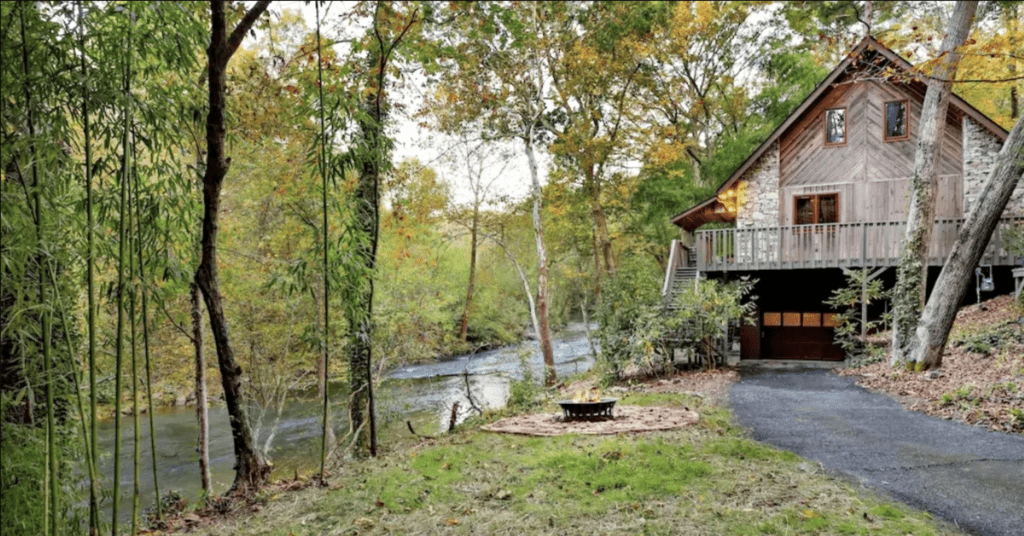 Also, if you'd like a complete map of all the waterfalls near and far in the NC mountains, you're in luck.
---
With so many fun and beautiful ways to stay active (and cool) in Banner Elk, it's easy to see why so many Eagles Nest residents are also outdoor enthusiasts. If you're interested in exploring NC mountain real estate, schedule a Discovery Tour with us today. We look forward to discussing your next adventure – and home – in the High Country!