While big cities are known to host the most options for arts & culture, mountain towns shouldn't be written off, ever. From Art Crawls to LIVE shows, we have a few recommendations to add to your May calendar of things to do in Banner Elk. Plus, we'll be updating the list in the summer months once the local cultural calendar explodes with new events. Invite friends, neighbors, and family too! 
1. BOONE ART CRAWL
May 6, 5 pm onwards
Distance: 21 miles from Eagles Nest
Up for an Art Crawl? You can start with the upcoming Downtown Boone Art Crawl, a special, once-a-month event to bring you up close to a number of shops, galleries, and art venues like Appalachian State University's Turchin Center for Visual Arts, The Jones House gallery (headquarters of the Watauga Arts Council), and more. Immerse yourself in new and old exhibitions featured throughout their galleries while learning more about their ongoing educational workshops, ArtTALKS, and other special events. And to enjoy your experience to the fullest, grab a sneak peek at some of the exhibitions here! 
For more information, call the DBDA at 828-262-4532
2. BANNER ELK HERB FESTIVAL
Saturday – Sunday, May 28 – 29, 9 am – 5 pm (4 pm on Sunday)
8 miles from Eagles Nest
Now, we're transitioning from the first weekend in May to the last… we arrive at The Banner Elk Herb Festival! Besides thousands of herb plants you can buy and take home, expect a number of excellent local bands, arts and crafts vendors, farmers market goods, and fun-filled distractions for kids like carnival games. Go with friends or bring the whole family to enjoy local food and non-alcoholic beverages at this beautiful outdoor event.  Location around Banner Elk TBD, but you can reach out to holly@beherbfest.com for more details, and especially if you're interested in participating.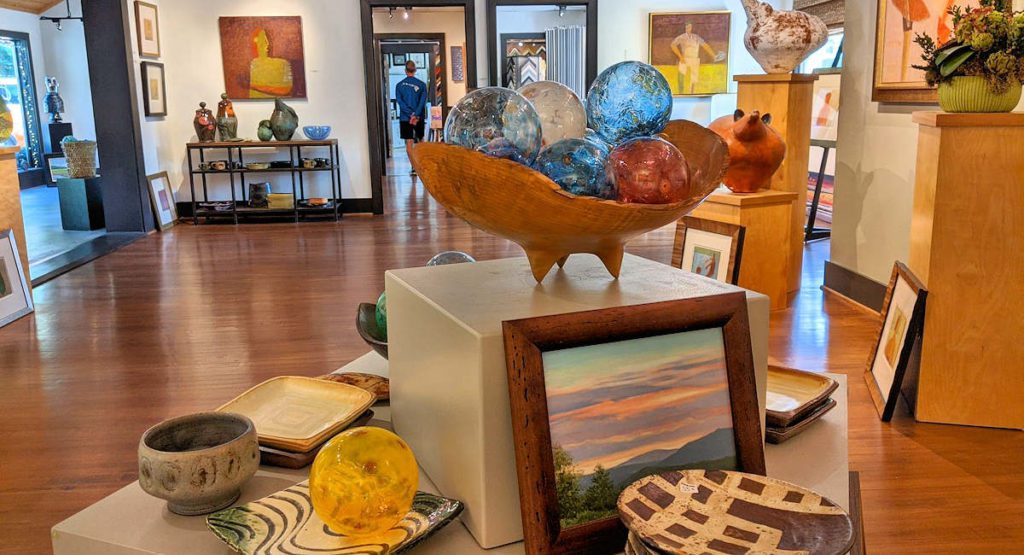 3. GALLERY HOPPING
Any time, at your leisure
Distance: Varies
Art galleries are not few and far between in our neck of the mountains. And in fact, Downtown Banner Elk is home to many, including one of our favorites: Clark Gallery. On Shawnsheehaw Avenue (#393), you'll find an impressive collection of American artists "of regional and national acclaim." And because it's actually active with American auction houses, you can discover a number of rare and much older found works not produced by artists represented by the gallery. We also recommend the beautiful Carlton Gallery which features a large selection of fine artwork and contemporary crafts. 150 local, regional, and national artists contribute their work to its walls, and some even conduct workshops in oils, acrylics, watercolor, and more. If you'd like to participate, call 828-963-7347. It's one of our favorite recommendations for maintaining – or tapping into – your creativity.
4. ART ON THE GREENE – MEMORIAL DAY WEEKEND
May 28, 2022 from 10 am – 5 pm
Distance: 8 miles from Eagles Nest
Four times each summer, the green at the Historic Banner Elk School comes to life with Art on the Greene, featuring quality, hand-made arts and crafts from 40-60 select regional and national artisans. Their talents span a variety of media, including metal, glass, ceramics, wood, watercolor, acrylics, and oil.
Each show allows locals and visitors to town to add to their art collections while supporting historic preservation at the same time. Booth rental proceeds are donated to the Town of Banner Elk for ongoing efforts to transform the Historic Banner Elk School into a center for visual and performing arts, and the festivities often include delicious food vendors and entertainment.
If you can't make Memorial Day Weekend, no fear! It'll be back on Fourth of July weekend, the first weekend in August, and Labor Day weekend. See you there!
Where are you heading first? Remember to check back next month for events updates. In the meantime, we hope you're looking forward to May in the High Country!
If you're interested in making mountain living a little more permanent, and are especially interested in Banner Elk or Boone areas, schedule your Discovery Tour with us today. We look forward to welcoming you!